See on Scoop.it – Computational Music Analysis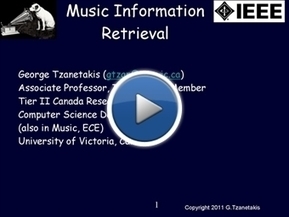 George Tzanetakis provides give an overview of techniques, applications and capabilities of music information retrieval systems.
Olivier Lartillot's insight:
Great tutorial by George Tzanetakis about the research on computational music analysis (a discipline known as Music Information Retrieval). The tutorial includes introduction of engineering techniques commonly used in those research.
Here are the discussion topics that you will find:
Music Information Retrieval
Connections
Music Today
Industry
Music Collections
Overview
Audio Feature Extraction
Linear Systems and Sinusoids
Fourier Transform
Short Time Fourier Transform
Spectrum and Shape Descriptors
Mel Frequency Cepstral Coefficients
Audio Feature Extraction
Pitch Content
Pitch Detection
Time Domain
AutoCorrelation
Frequency Domain
Chroma – Pitch Perception
Automatic Rhythm Description
Beat Histograms
Analysis Overview
Content-based Similarity Retrieval (or query-by-example)
Classification
Classification
Multi-tag Annotation
Stacking
Polyphonic Audio-Score Alignment
Dynamic Time Warping
Query-by-humming
The MUSART system
Conclusions
See on www.brainshark.com