See on Scoop.it – Computational Music Analysis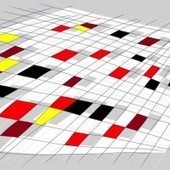 Olivier Lartillot's insight:
[ Note from curator: Wired already wrote an article about Carlsson and his compressed sensing method.
There are interesting critical comments about this article in Slashdot: http://science.slashdot.org/comments.pl?sid=4328305&cid=45105969
Olivier ]
"It is not sufficient to simply collect and store massive amounts of data; they must be intelligently curated, and that requires a global framework. "We have all the pieces of the puzzle — now how do we actually assemble them so we can see the big picture? You may have a very simplistic model at the tiny local scale, but calculus lets you take a lot of simple models and integrate them into one big picture." Similarly, modern mathematics — notably geometry — could help identify the underlying global structure of big datasets.
Gunnar Carlsson, a mathematician at Stanford University, is representing cumbersome, complex big data sets as a network of nodes and edges, creating an intuitive map of data based solely on the similarity of the data points; this uses distance as an input that translates into a topological shape or network. The more similar the data points are, the closer they will be to each other on the resulting map; the more different they are, the further apart they will be on the map. This is the essence of topological data analysis (TDA).
TDA is an outgrowth of machine learning, a set of techniques that serves as a standard workhorse of big data analysis. Many of the methods in machine learning are most effective when working with data matrices, like an Excel spreadsheet, but what if your data set doesn't fit that framework? "Topological data analysis is a way of getting structured data out of unstructured data so that machine-learning algorithms can act more directly on it."
As with Euler's bridges, it's all about the connections. Social networks map out the relationships between people, with clusters of names (nodes) and connections (edges) illustrating how we're all connected. There will be clusters relating to family, college buddies, workplace acquaintances, and so forth. Carlsson thinks it is possible to extend this approach to other kinds of data sets as well, such as genomic sequences."
[… and music?!]
"One can lay the sequences out next to each other and count the number of places where they differ," he explained. "That number becomes a measure of how similar or dissimilar they are, and you can encode that as a distance function."
The idea behind topological data analysis is to reduce large, raw data sets of many dimensions to compressed representation of the data sets in smaller lower dimensions without sacrificing the most relevant topological properties. Ideally, this will reveal the underlying shape of the data. For example, a sphere technically exists in every dimension, but we can perceive only the three spatial dimensions. However, there are mathematical glasses through which one can glean information about these higher-dimensional shapes, Carlsson said. "A shape is an infinite number of points and an infinite amount of distances between those points. But if you're willing to sacrifice a little roundness, you can represent [a circle] by a hexagon with six nodes and six edges, and it's still recognizable as a circular shape."
That is the basis of the proprietary technology Carlsson offers through his start-up venture, Ayasdi, which produces a compressed representation of high dimensional data in smaller bits, similar to a map of London's tube system. Such a map might not accurately represent the city's every last defining feature, but it does highlight the primary regions and how those regions are connected. In the case of Ayasdi's software, the resulting map is not just an eye-catching visualization of the data; it also enables users to interact directly with the data set the same way they would use Photoshop or Illustrator. "It means we won't be entirely faithful to the data, but if that set at lower representations has topological features in it, that's a good indication that there are features in the original data also."
Topological methods are a lot like casting a two-dimensional shadow of a three-dimensional object on the wall: they enable us to visualize a large, high-dimensional data set by projecting it down into a lower dimension. The danger is that, as with the illusions created by shadow puppets, one might be seeing patterns and images that aren't really there.
It is so far unclear when TDA works and when it might not. The technique rests on the assumption that a high-dimensional big data set has an intrinsic low-dimensional structure, and that it is possible to discover that structure mathematically. Recht believes that some data sets are intrinsically high in dimension and cannot be reduced by topological analysis. "If it turns out there is a spherical cow lurking underneath all your data, then TDA would be the way to go," he said. "But if it's not there, what can you do?" And if your dataset is corrupted or incomplete, topological methods will yield similarly flawed results.
Emmanuel Candes, a mathematician at Stanford University, and his then-postdoc, Justin Romberg, were fiddling with a badly mangled image on his computer, the sort typically used by computer scientists to test imaging algorithms. They were trying to find a method for improving fuzzy images, such as the ones generated by MRIs when there is insufficient time to complete a scan. On a hunch, Candes applied an algorithm designed to clean up fuzzy images, expecting to see a slight improvement. What appeared on his computer screen instead was a perfectly rendered image. Candes compares the unlikeliness of the result to being given just the first three digits of a 10-digit bank account number, and correctly guessing the remaining seven digits. But it wasn't a fluke. The same thing happened when he applied the same technique to other incomplete images.
The key to the technique's success is a concept known as sparsity, which usually denotes an image's complexity, or lack thereof. It's a mathematical version of Occam's razor: While there may be millions of possible reconstructions for a fuzzy, ill-defined image, the simplest (sparsest) version is probably the best fit. Out of this serendipitous discovery, compressed sensing was born. With compressed sensing, one can determine which bits are significant without first having to collect and store them all.
This approach can even be useful for applications that are not, strictly speaking, compressed sensing problems, such as the Netflix prize. In October 2006, Netflix announced a competition offering a $1 million grand prize to whoever could improve the filtering algorithm for their in-house movie recommendation engine, Cinematch. An international team of statisticians, machine learning experts and computer engineers claimed the grand prize in 2009, but the academic community in general also benefited, since they gained access to Netflix's very large, high quality data set. Recht was among those who tinkered with it. His work confirmed the viability of applying the compressed sensing approach to the challenge of filling in the missing ratings in the dataset.
Cinematch operates by using customer feedback: Users are encouraged to rate the films they watch, and based on those ratings, the engine must determine how much a given user will like similar films. The dataset is enormous, but it is incomplete: on average, users only rate about 200 movies, out of nearly 18,000 titles. Given the enormous popularity of Netflix, even an incremental improvement in the predictive algorithm results in a substantial boost to the company's bottom line. Recht found that he could accurately predict which movies customers might be interested in purchasing, provided he saw enough products per person. Between 25 and 100 products were sufficient to complete the matrix.
"We have shown mathematically that you can do this very accurately under certain conditions by tractable computational techniques," Candes said, and the lessons learned from this proof of principle are now feeding back into the research community.
Recht and Candes may champion approaches like compressed sensing, while Carlsson and Coifman align themselves more with the topological approach, but fundamentally, these two methods are complementary rather than competitive. There are several other promising mathematical tools being developed to handle this brave new world of big, complicated data. Vespignani uses everything from network analysis — creating networks of relations between people, objects, documents, and so forth in order to uncover the structure within the data — to machine learning, and good old-fashioned statistics.
Coifman asserts the need for an underlying global theory on a par with calculus to enable researchers to become better curators of big data. In the same way, the various techniques and tools being developed need to be integrated under the umbrella of such a broader theoretical model. "In the end, data science is more than the sum of its methodological parts," Vespignani insists, and the same is true for its analytical tools. "When you combine many things you create something greater that is new and different."
See on www.wired.com